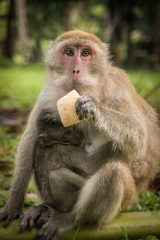 Price : Free for our guests, otherwise 100 Baht
Duration : 1h30 
Description :
We will take you by car to see the monkey temple nearby. The monkeys are quite friendly and you can feed them! Some of them might even climb on your shoulder to eat.
We then take you to a nice waterfall to enjoy some refreshing water.
Then just before going back to Smiley Bungalows we will stop at a viewpoint for a couple of memorable photos!