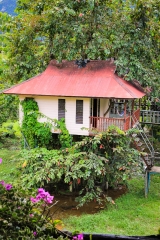 Ever seen a tree growing right through a room? If not, our treehouse might be the chance to do so! Elevated a couple of meters off the ground, our treehouse holds a double bed. We can add an additional mattress if needed to hold up to 3 people!
It has a shower, toilet seat and fan.
There is NO air conditioning but you will find the cool night air quite pleasant.
Price : 900 Baht/night
Maximum Capacity : 3 people